Dedicated to protecting the land essential to Sheffield's natural, scenic, agricultural and rural character
The Sheffield Land Trust
Since 1989 over 5,000 acres protected, including 18 farms

P.O. Box 940, 75 Main St., Sheffield, MA 01257-0940
413 229-0234;
shefland@bcn.net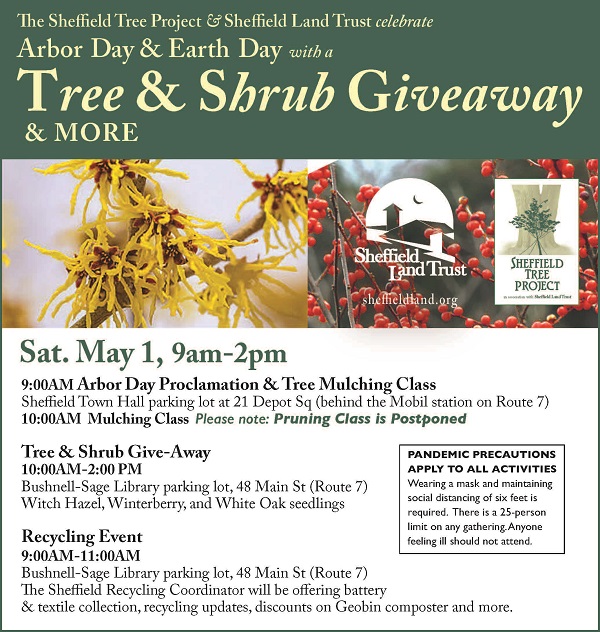 On Saturday, May 1, in celebration of Arbor Day and Earth Day, and in appreciation for the Sheffield community, the Sheffield Tree Project and Sheffield Land Trust are partnering with the Bushnell-Sage Library and Sheffield Recycling Coordinator to offer a series of free activities for the public. There will be a native tree and shrub give-away, a demonstration on how and why to mulch trees and an opportunity to learn more about composting. There will also be a battery and clothing/textile collection and information on the Sheffield Transfer station and the next Hazardous Waste collection. Events take place in the center of Sheffield, one starting in the Town Hall parking lot (21 Depot Sq) and two in the Bushnell-Sage Library parking lot (48 Main St). See below for the schedule and details.

Pandemic precautions apply to all activities. Wearing of masks and maintaining social distancing is required, and there is a 25-person limit on any gathering, and anyone who is feeling ill should not attend.

9-10am Come take part in the Arbor Day Proclamation & Tree Mulching Class. Park and meet at the Town Hall, then the group will be moving to the mulching location. The tree pruning class has been postponed to a date still to be determined.
9-11am The Sheffield Recycling Coordinator will be offering the collection of batteries and textile for recycling, as well as information on other recycling and hazardous waste programs, how to get a discount on Geobin composters, and more! All these activities will be in the Bushnell-Sage Library parking lot.

10am -2pm There will be a Tree and Shrub Seedling Give-away in the Bushnell-Sage Library parking lot. One native tree species, White Oak, and two native shrubs, Witch Hazel and Winterberry, will be available on a first-come-first-serve basis, until the supply is gone. Each family can get up to 3 seedlings.

White Oaks are great shade trees and can reach between 50-80 feet tall and up to 100 feet wide. They are flexible in tolerating moist to well-drained soils and like about 6 hours or so of sun a day. They also have very high butterfly, bird and other wildlife value. This link is to a great article on the benefits of planting oak trees: https://www.nytimes.com/2021/03/31/realestate/oak-trees-why-you-should-plant.html

Witchhazel is an understory tree that can grow to about 20 feet tall and between 15-20 feet wide. It likes moist, neutral to slightly acidic soils. It is flexible in being able to grow in full shade to full sun, and also offers good wildlife value including ground birds and cottontail rabbits.
Winterberry is a shrub that will grow from 6-12 feet tall and becomes a wide upright shrub. It is very versatile tolerating dry to wet sandy soil to clay soils, and it can grow in part shade to full sun. It also has good wildlife value providing cover, nesting, nectar and fruit for birds.
For questions please email shefland@bcn.net or visit our Facebook page.